Facebook Marketing Approach
Bling! You Have a Message.
Facebook Messenger connects Facebook users directly with your business, on their terms. Messenger makes communication instant, simple, thoughtful and to-the-point. Keep conversations contained where users prefer to converse, outside of their email inbox. Whether they're desktop or mobile and on-the-go, Messenger is with today's Facebook hyper-user.
A recent survey by Nielsen showed that 53% of people say they're more likely to shop with a business they can message directly.1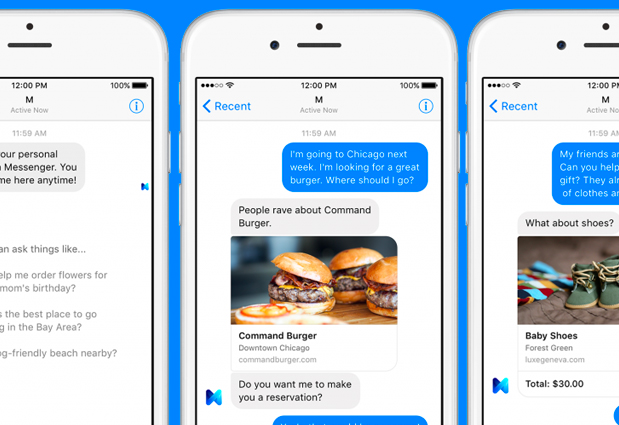 Now
While some have become numb to phone calls and emails, Messenger is the siren that lures users into their device. Instant. Urgent. Personal. Bye-bye, "You've Got Mail!" and "Hello, let's talk."
Emotive
More than words. Pictures, video & emojis mimic the personalization of texting in Messenger.
Convergent
A place for activities, Messenger coordinates people's lives. Customers track their order status, purchase goods, find their next destination and get recommendations. It's all housed here. Will you be there?
1"Facebook Messaging Survey" by Nielsen (Facebook-commissioned study of 12,500 people ages 18+ who used a mobile messaging app in the past 30 days in AE, AU, BR, FR, ID, IN, JP, KR, MX, TH, TW, UK, US and VN), Mar 2016. The study included 1,000 respondents per market except for AE, TW, VN, where the sample size was 500.
2Facebook data, Apr 2017
Examples of Facebook Messenger Conversational Marketing Strategies in Use by Seychelle Media
CLIENT EXAMPLE:
VACATIONVIP.COM Roll-Out and Beta Testing of New Facebook Messenger Objective
Travel industry client, VacationVIP.com, a large distributor of highly discounted resort vacation packages, used a Facebook Messenger campaign designed and managed by Seychelle Media. Campaign objective: Beta testing as a Facebook Agency Partner of new Messenger Objective.
CLIENT EXAMPLE:
[CLIENT CONFIDENTIAL] Remarketing Via Facebook Messenger to Dormant Leads Through Customer Data
We uploaded a Custom Audience List (a list of client's leads that have not yet converted). We then dropped the price by $49 through a new video ad creative. Response rate was excellent, with click-through rates on par with standard lead objectives, and with a 100% contact rate with the consumer, with a conversation on their terms and their schedule.
The new feature allows the ad to display while the CTA (call-to-action) button, in place of the standard Learn More or Sign Up button, moves directly to Messenger. When the user hits "Send Message," the conversation moves directly into Facebook Messenger and begins with a structured message built by Seychelle Media for the client, thanking the user for inquiring about the deal, then letting them know that a real human will be in touch with them soon with more details. During the process, Messenger is used for collecting some information about when they'd like to vacation, how many people they'll be bringing, and additional details which will help our Conversational Marketing Representative respond to the user's needs and move them into an inbound call and sale. Within 1 hour of turning on this campaign, we received 38 inbound Messages from users and captured 2 sales in the first 3 hours of the campaign launch. We now receive about 100 messages per day at approximately 83 cents per user's first inbound Message. The cost of a Messenger conversation was roughly equal to that of obtaining a "lead," but with a 100% contact rate initiated by the user.